Come and join us in our spacious modern office that's easily accessible by public transport and car. Click on the job title for more information and apply directly. We offer a competitive salary, the chance to work with top brands on state-of-the-art cross-cloud solutions and campaigns, excellent learning and career opportunities and a pleasant and informal working environment.
Interested in working at CloseContact, but not an exact match with one of our current openings? Fill in the form under Open Application. CloseContact is always happy to meet Salesforce gurus, data experts, cross-cloud connoisseurs, keen project managers, customer journey/campaign management specialists and eager interns to join our team.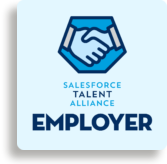 CloseContact is a member of the Salesforce Talent Alliance. This means we are committed to create a culture of equality at our company through inclusive hiring practices.