CloseContact nominated for Marketing Cloud
The Salesforce Partner Awards were handed out for the first time in the Netherlands during a festive dinner in Parc Broekhuizen, Leersum. With these awards, Salesforce wants to express its appreciation for their partners in the Salesforce eco-system in the Netherlands. They are an essential part of Salesforce's (and its clients') success.
Our team's continuing efforts to obtain a broad range of certifications and to expand and keep our expertise up-to-date, resulted in a nomination for Marketing Cloud in the Best Performing Cloud category. Unfortunately we didn't get the award, but we were very happy to be nominated.
We are glad to have been recognised in our role as Salesforce Consulting Partner. We will keep working to get more nominations and awards in the future
Michiel van Vlimmeren, Country Manager Netherlands with Salesforce about the importance of partners: "We are striving to keep up this growth and that can only happen when you focus, together with specialized parties, on what organizations in specific segments or sectors need to get closer to their customers. I would like to congratulate all winners and nominees with their accomplishments of the past year."
Pure Dutch and independent player
With 40+ Salesforce certifications and more than 50 succesful implementations of Salesforce Marketing Cloud, Pardot and cross-cloud projects, we have a unique position in the Salesforce Partner Program as a pure Dutch, independent organisation with large international clients.
David de Kousemaeker, responsible for alliances and channels at Salesforce Netherlands about the Dutch partners: "The high level of certifications shows the maturity of the Dutch eco-system. We are very proud of our joint approach and growth. This awards dinner offers a great opportunity to acknowledge the power of collaboration and put our partners in the spotlight."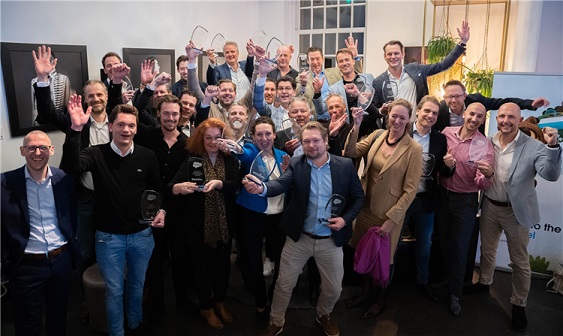 Congratulations to all winners of the Salesforce Partner Awards 2021/2022!
Want to know more about our services?
Are you looking for a reliable partner who can offer flexible teams of certified experts and has experience with complex projects for Salesforce Marketing Cloud, Marketing Cloud Account Engagement (Pardot) or cross-cloud implementations? Are you looking to optimise or expand your existing Salesforce setup, but don't know where to start? Take a look at our clients and a selection of our cases here. For more information, contact us via the button below.