From Relationship Management to Salesforce Genie
The first software applications to manage customer or relation information appeared in the 1980s, as the electronic equivalent of a file system or a rolodex. In the 1990s, these systems were developed into Customer Relationship Management solutions, mainly used by sales departments to manage and track prospects, leads and customers.
Software as a Service: SaaS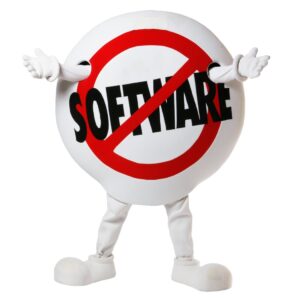 During the second half of the 1990s, the rapid development of the internet made cloud computing, and software as a service (SaaS) possible. 
Saasy, Salesforce's first mascot, embodies the idea of cloud computing without having to install any software on your own system. This was because Marc Benioff, Parker Harris, Dave Moellenhoff and Frank Dominguez came up with the idea of a Customer Relationship Management system that existed only in the cloud.
Salesforce gradually expanded its SaaS services, by development and acquisition, and the platform now offers Sales Cloud, Marketing Cloud, Service Cloud, Commerce Cloud, Experience Cloud, Analytics Cloud and more.
From CRM to CDP
No matter how large and complex your organisation, you will want to know who your customers are. To achieve this, you need a complete, unified 360 view of him or her. The most valuable information you can collect, is zero party and first party data. This is data that you get directly from your customer, and will likely be correct and up-to-date. When collecting this information, you can also be transparent about how you are going to use it, and how you will be complying to increasingly strict privacy laws. Zero and first party data is part of your business capital!
As the amount of touchpoints between customers or relations and different departments multiplies, you risk losing a complete overview of your data. Applications and departments within your organisation typically collect data in one or more of these categories: online purchases and store visits, complaints and service requests, event attendance, e-mail and newsletter interactions, (social) advertising, financial transactions, donations, ticket sales etc.
But often this data is not accessible at a single location, because informations from different sources is stored in different systems and different formats.
That is where a Customer Data Platform (CDP) comes in. The independent CDP institute defines a CDP as: "packaged software that creates a persistent, unified customer database that is accessible to other systems."
A CDP maps data from different sources and systems to your data model. It comes with connectors that can communicate with systems in- and outside your marketing platform.
CDP put into practice
A Customer Data Platform like Salesforce's enables you to import data from different sources with built-in connectors, but direct data import or via custom APIs is also possible. The data can be automatically processed to analyse, segment and personalise it, so it can be used for marketing and communication purposes.
A simple example: A customer creates a profile on your website, using the email address sofee@provider.com and a delivery address. But she also visits your website without logging in, in which case you only have an IP address. She subscribes to your newsletter with sophiaX@provider.com. Your customer service department has her phonenumber from a WhatsApp interaction. Other data about this customer can be collected from social advertising, loyalty programs and even store visits.
You want to connect all this data to a specific record in your Customer Data Platform, so you know sofee and SophiaX are one and the same Sophia. Even if she changes telephone number or email address, because your data is updated regularly. Salesforce calls this the single source of truth, where everyone in your organisation can find the same information. When you know when, how and why Sophia interacted with you, you will be able to communicate with her in a more relevant and personal way. Let's say, send her a personal offer on an article you know she will like, or not send her a newsletter about an item she wasn't happy with.
Beyond Marketing: Salesforce Genie
Initially, your Customer Data Platform was mainly used as a single source of truth for marketing and communication purposes. But Salesforce goes beyond that and presents Salesforce Genie, bringing the power of in-the-moment data with the first-ever CRM that can ingest data in real-time.
Built on a completely new data infrastructure, Salesforce Genie can be used with Sales, Service and Commerce Cloud, Tableau Mulesoft and Slack. Because of its open structure, it is extendable and apps and extensions from selected partners are already available through the Salesforce App Exchange, with more to follow. With Genie, Salesforce is taking the lead in the development of next level customer experience.
Would you like to get more out of your data? CloseContact can help you with advice and information. We are certified for Salesforce CDP (and many other Salesforce applications) and experienced in complex multi-cloud solutions.